Election Audits
Tips on observing all steps in elections
Sample size estimates to audit each federal contest 2020
Winning margin & audit options in all contests, selected counties
Video explanation of approaches to audits
Current audit rules in each state (see map below)
Paper on good ways to audit all contests
Costs & contracts for past audits
Reports on past audits:
Arizona 2020 General audits.
Arkansas: https://static.ark.org/eeuploads/elections/2020_Post_Election_Audit_Report_-_Final.pdf
California 2020 and later audits and 2008-2011 and county election administration plans. 2008-present Humboldt County image audits. 2011-12 tests of image audits at UCSD for Alameda, Marin, Merced, San Luis Obispo, Stanislaus, Ventura, and RLAs in these counties and Humboldt, Monterey, Orange
Colorado 2017-2021 audits. 2018 critique of 2017 audits
Connecticut, 2011-present (click "Next Dist" to get local report at bottom of screen) and critique. 2022 RLA audit report, and  critique of RLA report
Florida 2020 official audits. Image audits of Collier, St. Lucie & Volusia Counties
Georgia https://sos.ga.gov/page/2020-general-election-risk-limiting-audit Image audits of Bartow and Fulton Counties
Iowa: https://sos.iowa.gov/elections/results/xls/2020/2020PrecinctAudits.xlsx
Maryland: each county audits a sample of one contest and Clear Ballot re-interprets every ballot image: 2020 Clear Ballot
Michigan: https://www.michigan.gov/documents/sos/BOE_2020_Post_Election_Audit_Report_04_21_21_723005_7.pdf
Minnesota: https://www.sos.state.mn.us/elections-voting/how-elections-work/post-election-reviews/
Nebraska 2020 General and Primary audits (2% random sample of all precincts meant 1 or 2 each in 27 or 20 of the 93 counties).
New Jersey: https://nj.gov/state/elections/election-information-2020.shtml#:~:text=Post%2DElection%20Audit%20Results%20by%20County
New Mexico: https://www.sos.state.nm.us/voting-and-elections/how-we-secure-your-vote/election-audits/
New York: 2020 general for Kings,  Nassau Richmond Suffolk,  Broome Cayuga Chenango Cortland Herkimer Madison Oneida Onondaga Oswego Tioga Wayne counties & more on Madison+Oswego (and guidance)
North Carolina's 2 precincts per county and 1 local contest in 17 counties
Ohio: https://www.sos.state.oh.us/elections/election-results-and-data/2020/
Pennsylvania: RLAs & critique.  And traditional batch audits of lesser of 2% or 2,000 ballots in each county. A 2018 court agreement requires them to "audit all unofficial election results using robust pre-certification audit methods..."
Rhode Island https://elections.ri.gov/elections/results/RLA.php
South Carolina 2022
Utah: https://voteinfo.utah.gov/2020-election-records/
Virginia: https://www.elections.virginia.gov/resultsreports/election-security/rla/ with 2019-2020 audits; summary instructions
Wisconsin: image audit of Dane County
Washington's 2020 San Juan County (very experienced) report & video (staff block view; 290 ok of 290 votes checked), and Pierce County report (36 ok of 36 votes checked)
Please tell admin@votewell.net, the sites for other audit reports
Current, sortable, list of Audit Rules is actively and accurately maintained at
https://en.wikipedia.org/wiki/Election_audit#Table_of_U.S._audit_rules
Other maps are less detailed at
<![if !supportLists]>· <![endif]>https://www.mapresearch.org/democracy-maps/post_election_audits
<![if !supportLists]>· <![endif]>https://verifiedvoting.org/verifier/#mode/navigate/map/auditLaw/mapType/audit/year/2022 
<![if !supportLists]>· <![endif]>https://whowhatwhy.org/politics/elections/us-elections-report-card-shows-many-states-are-failing-democracy-test/
<![if !vml]>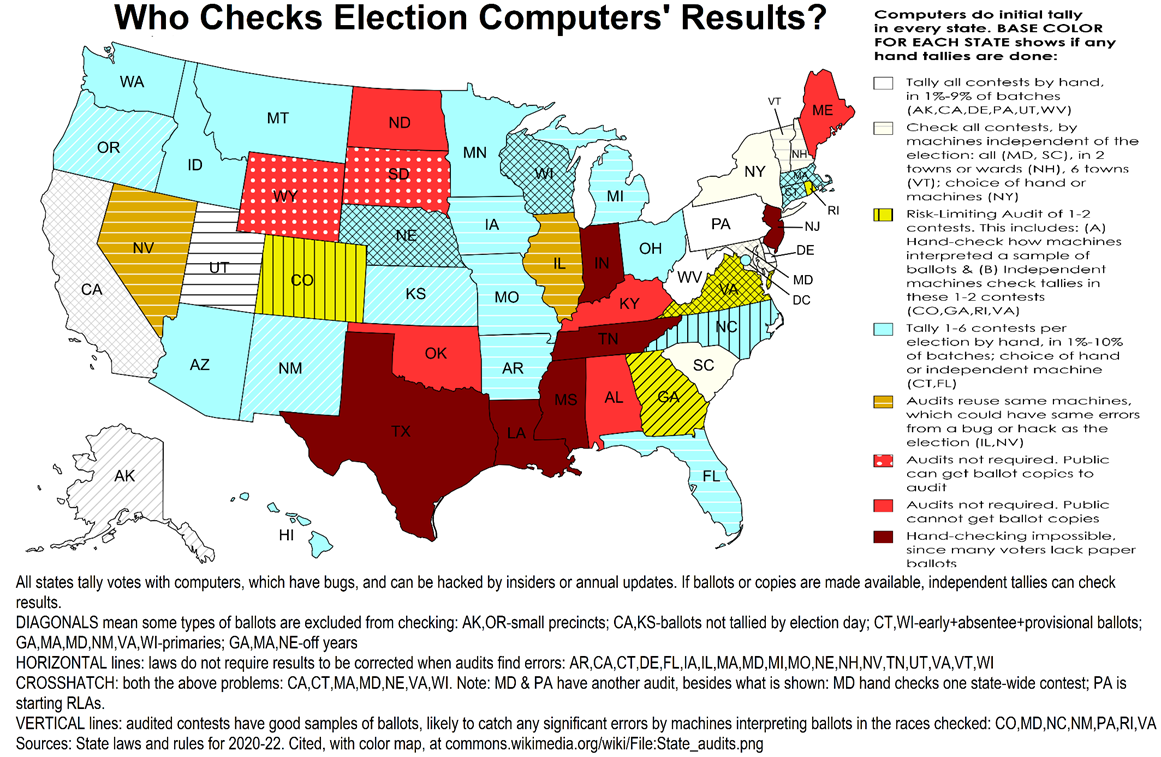 <![endif]>
<![if !vml]>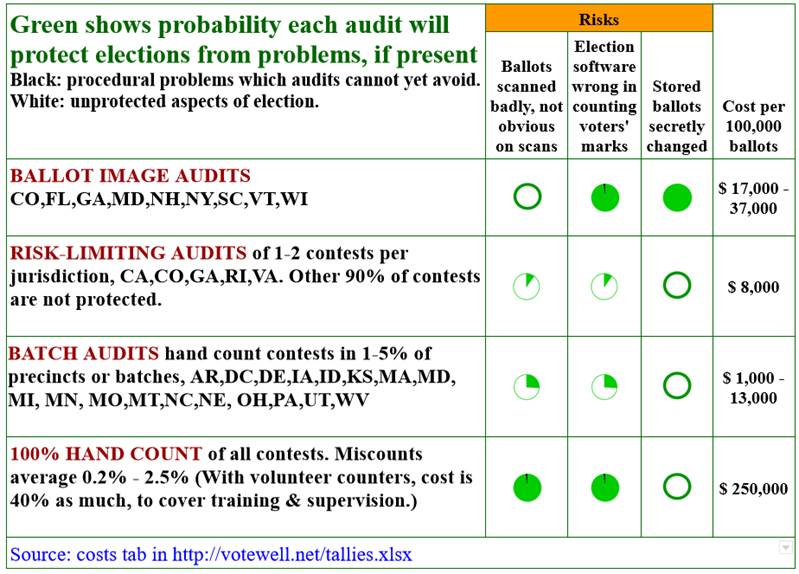 <![endif]>