VoteWell.net Home
Examples of Election Tally Sheets, for Hand-Tallying Counts and Recounts
Contents
San Diego, CA 2016. 1% Audit by County. Cross out numbers. 1
Canada undated. Judicial recount handbook. Mark boxes, which are numbered every 5, without the ambiguity of Jeffersonville. 2
Jeffersonville, IN 2016. Recount by City. Groups of 5 tally marks, numbered in a way which caused confusion. 4
Arizona 2021, Recount by Senate Contractors. Tally 5 ballots per line, total after 5 ballots. 5
Arizona 2020. Tally write-ins. Cross out numbers. 7
Indonesia 2014. Tallies. Numbered groups of 5 require multiplication or lookup in a table. 7
Bridgeport, CT 2010. Recount by citizens. Separate tallies of ambiguous and clear votes, in unnumbered groups of 5. 7
Harris County, TX 2006. Recount? Cross out numbers, as in San Diego 2016. 7
Wisconsin 1912. Single Transferable Vote Tally Sheet. 7
<![if !vml]>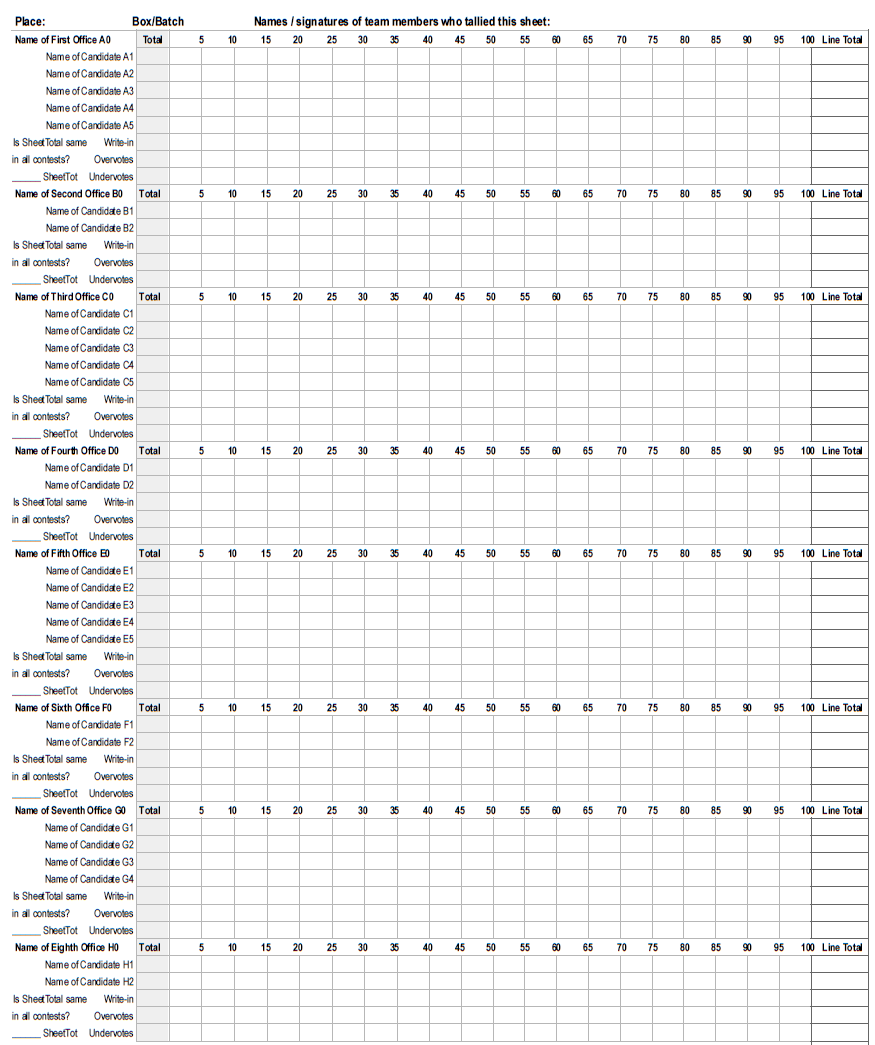 <![endif]>
https://www.elections.ca/content.aspx?section=res&dir=loi/jud&document=appD&lang=e
<![if !vml]>
<![endif]>
Errors were 3% to 27% for various candidates in a 2016 Indiana race, because the tally sheet labels misled officials into over-counting groups of 5 tally marks, and officials sometimes omitted absentee ballots or double-counted ballots
https://www.newsandtribune.com/news/jeffersonville-city-council-at-large-recount-tally-sheets-show-vote/article_75f432ce-cf7e-11e5-8c1a-5365ef7d3540.html
<![if !vml]>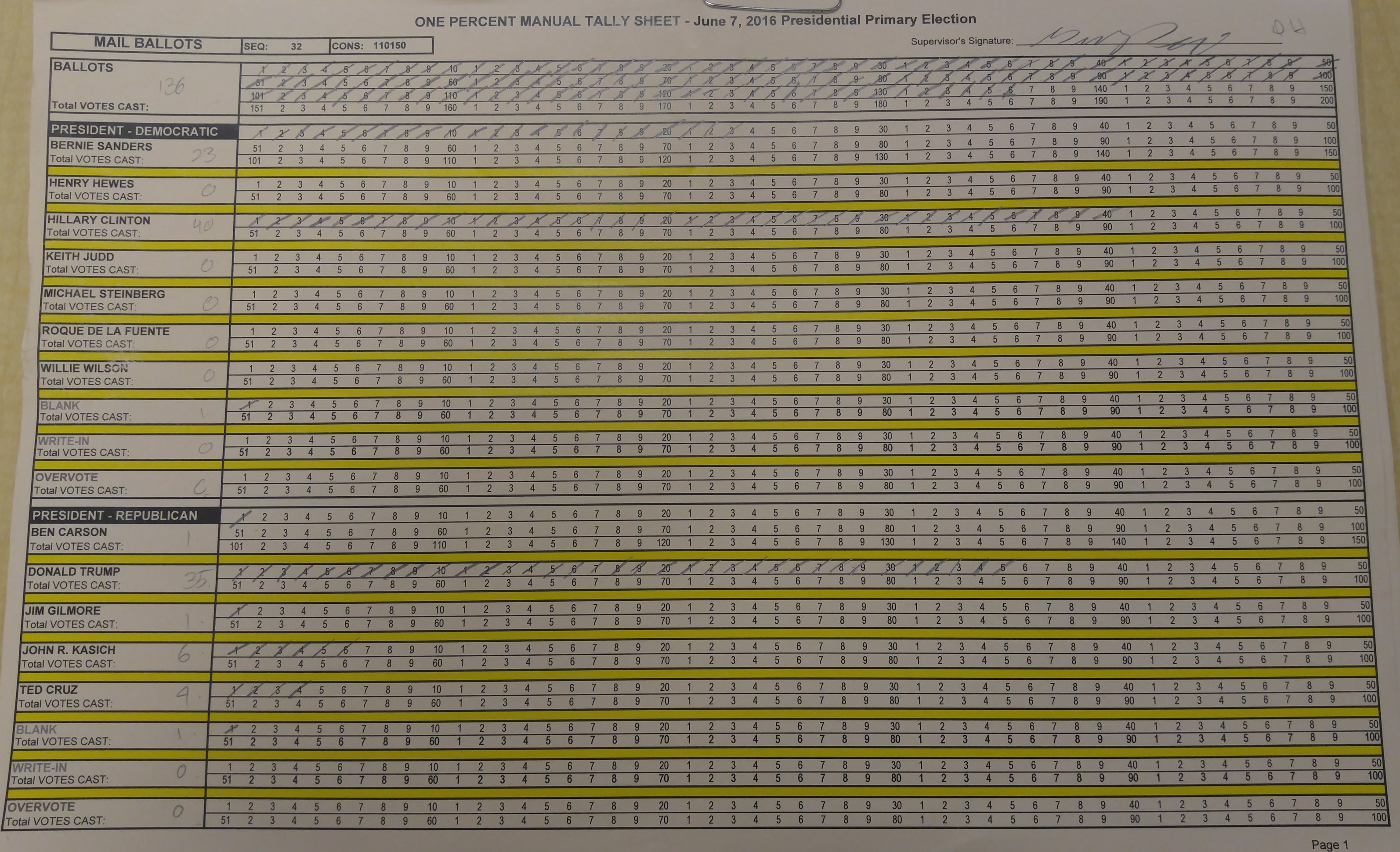 <![endif]>
It is hard to add the totals accurately after 50 ballots, since the number for each candidate on each line varies.
<![if !supportLists]>• <![endif]>"Each counter will place a single line (tally) in the Ballot column indicating that 1 ballot has been viewed.
<![if !supportLists]>• <![endif]>"Counters will view the paper ballot and place a single line in the column that corresponds to the candidate selected.
<![if !supportLists]>• <![endif]>"An image of the ballot will be displayed on the monitor above the counter's desk area that can be used to view a larger version but must be confirmed on the paper ballot.
<![if !supportLists]>• <![endif]>"All tally marks will be made in the same row as that ballot number. After 5 ballots, the tally marks will be made in the next column down on the page."
So: for example if first ballot is for Trump and second for Biden, second tally mark can go anywhere in Biden section , not necessarily in 1st or 2nd place within that section. If second ballot were always put in 2nd position, and 3rd ballot of each group in 3rd position etc., the sheet would display the content of each ballot, as well as being a summary. However following that strict  order would be error-prone.
https://www.cyberninjas.com/static/20210429155650/Wake-TSI-Counting-Floor-Policies.pdf
<![if !vml]>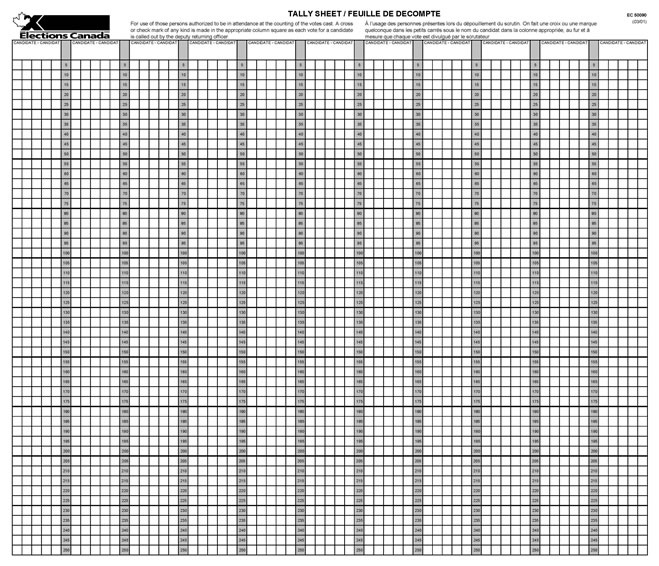 <![endif]>
Instructions are on pages 222-234. Forms are on pages A233-A248. There are tally sheets like this only for write-ins and accessible machines; otherwise staff just record final tallies for each candidate and result.
https://azsos.gov/sites/default/files/2019_ELECTIONS_PROCEDURES_MANUAL_APPROVED.pdf
<![if !vml]>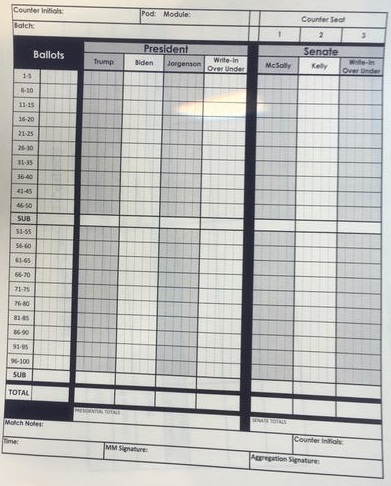 <![endif]>
<![if !vml]>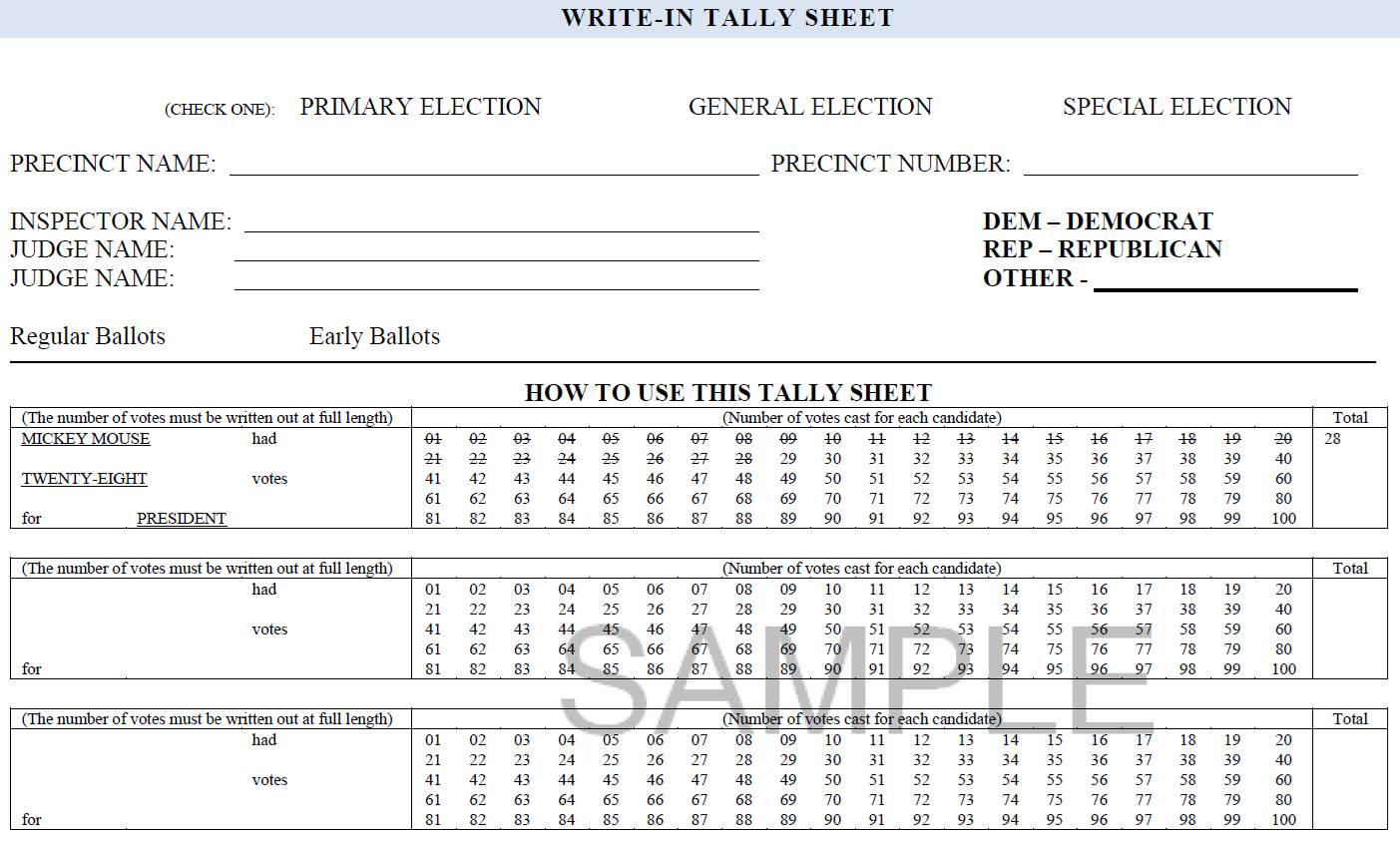 <![endif]>
"One individual read each ballot, while a second individual watched the ballot to make sure the reading was accurate. Two individuals completed identical hashmark sheets for each stack - if the individuals sheets did not agree, then the team resolved the issue by recounting the ballots. Hashmarks were made for each ballot, including undervotes and overvotes, such that the number of hashmarks could be cross checked to equal the number of ballots in the stacks. Stacks were clipped with metal clips, along with one of the hashmark sheets for resealing, while the other hashmark sheet was saved for the district recount paperwork for processing by the accounting team. Special stacks such as questionable ballots (those with partially filled in bubbles), write-ins, and voter intent issues were scrutinized with the assistance of recount leaders to assure accuracy and consistency." [Pages 15-17 of the Recount Report describe the process and lessons learned.]
http://www.ctelectionaudit.org/bridgeport-recount-details/
<![if !vml]>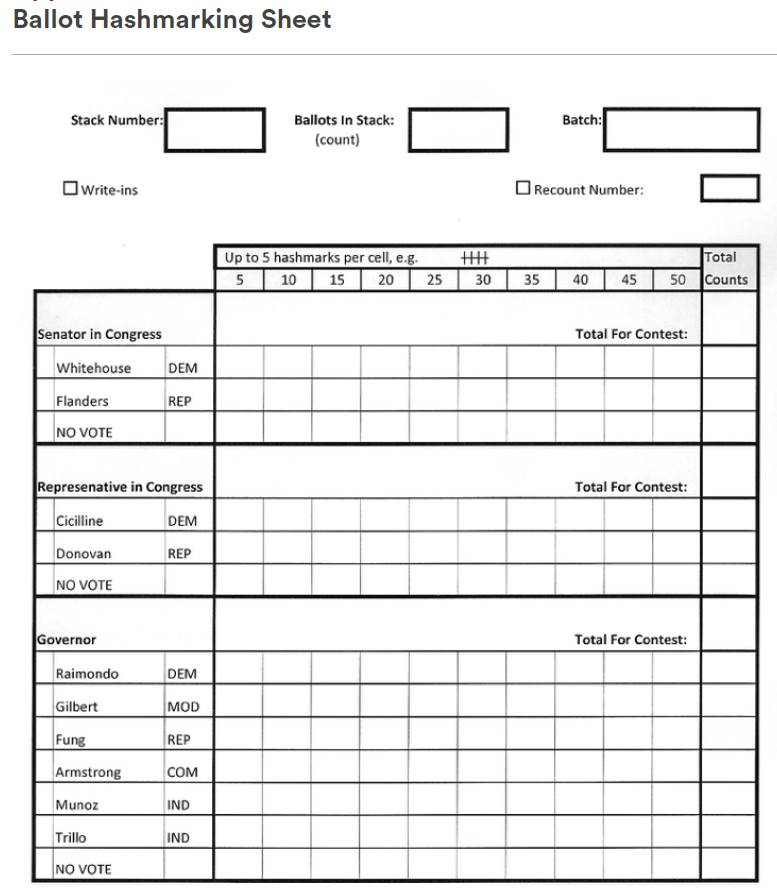 <![endif]>
<![if !vml]>
<![endif]>
"Following, is the official tally sheet upon which the first and second choice votes are entered, being called off in this case: 'For Governor, Brown first, Gray second.' Supposing the ballots of one precinct have been called off, the sheet shows as follows:--
https://digicoll.library.wisc.edu/WIReader/WER1650-Chpt4.html
<![if !vml]>
<![endif]>